If you aren't a seasoned graphic designer, making images for your social media pages, ads, blogs and emails can be quite difficult. Industry standard tools, like Illustrator, have a very steep learning curve, and they can get eat up a large chunk of your budget.
Enter Snappa. Snappa is an awesome tool that will save you a ton of time and money. You can create beautiful graphics with the push of a button. And the drag and drop platform makes it easy to edit your work.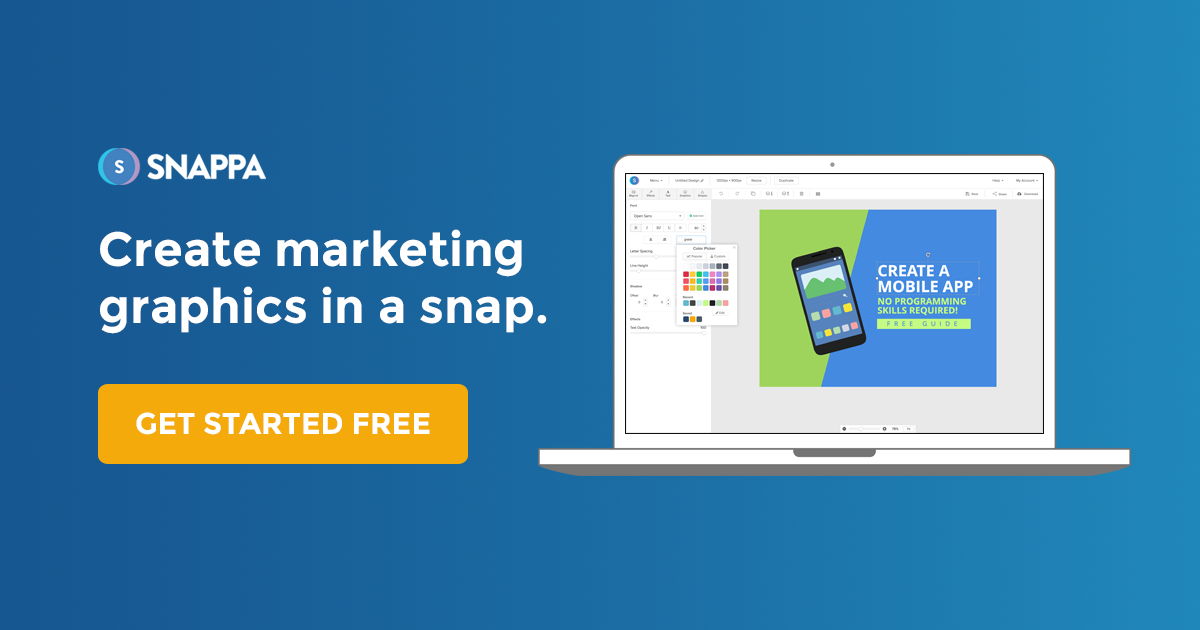 Powerful Graphics Editor
If you're going to create your own graphics, you need a fully-featured graphic editor. Drag and drop your way to beautiful graphics, add effects, change colors and do it all within one program.
You're in complete control over your graphics, the colors used and the sizing.
Templates Make Design Easier
You're not a professional graphic designer, and Snappa knows this. You don't have time to reinvent the wheel – no one does.
There are also pre-made templates available for just about any project you could imagine. Snappa will even give you the perfect size for any platform you want the image displayed on.
Another cool feature Snappa offers is a built-in library of photos that you can use. Sure, there are other tools that have photos, but you have to pay for them if you decide to use them.
With Snappa, all of the photos are free. Adding graphics and effects is a breeze with their built-in library.
There is absolutely no learning curve. You can create graphics in seconds.
And there are 40,000+ photos, 200+ fonts and 3,500+ graphics in Snappa's library. You'll have 100% royalty-free access to all of these photos and graphics. Drag and drop them into your template and make your own work of art today.
Did I mention that all of the graphics are licensed for commercial use? That's right. You can confidently use these images, fonts and graphics in any project you want without worrying about copyright issues.
Hundreds of pre-made templates with new ones added often. Templates come in an array of sizes with a wide range of niches available, too.
Oh yeah, you can also upload your own photos and graphics into the platform. You can save and organize all of your work neatly, too.
Fonts can be imported into the platform so that you can ensure you use the exact font across all platforms.
Resizing for Every Platform
Resize your graphics in seconds without worrying about distorting the image in the process. Snappa requires just two clicks to resize your images, and you can do some magic in the process:
Resize to a Twitter header

Resize to a Facebook cover

Turn your Instagram post into a pin on Pinterest

Resize a Facebook ad into a billboard ad
You can do it all, without distortion and with the click of a button.
Share Your Images with the World
Social media is the lifeline of all markets and businesses. You need to be active across your dominant social media channels, but how do you do this? Well, it's simple with Snappa.
The tool allows you to connect multiple social media accounts to your account.
If you want, you can start sharing your creations in just minutes. It's quick and easy to start sharing your items, but it gets better than that. Buffer (a great social media scheduling tool) is integrated into Snappa.
You can schedule your images to be posted on Twitter and Facebook, choosing the time that's perfect for your audience.
So, there's also something I've been holding off on telling you. There is an easy way to add team members and collaborate together. You can allow everyone to enter the graphic design phase of your business. Share folders, designs and other brand assets among team members.
It's the perfect way to get more work done faster. It's so easy. I linked a video below that shows you how to get started with Snappa today.
Check out their video here for a brief overview.
I didn't even mention the best part yet which I alluded to in the title: Snappa has a free version! They also have a paid version at 10 dollars a month, which is a complete steal for all that you get.
Forget spending hours watching tutorials on how to make graphics from scratch with expensive software. Use Snappa today to create beautiful graphics that will boost your business.